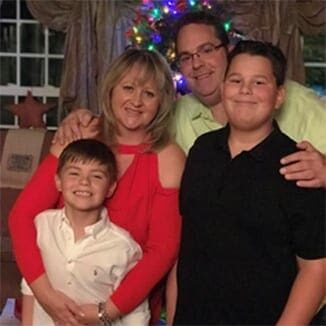 Why did you choose SJEDS?
From the minute we walked through the doors of SJEDS we knew we found the school for our children. We loved the on campus chapel as well as the school and class sizes. We were, however, most impressed with the warmth, kindness and caring of the staff – that just cannot be duplicated.
What does your child(children) enjoy most about SJEDS?
Our children enjoy being challenged and learning something new everyday! From STEM to flag football, basketball, 3d-printing and Lego Robotics… the spark in their eyes when they are so excited to tell you about the new things that they learned today- is indescribable!!
What is/are your favorite thing(s) about SJEDS?
Probably the sense of community. The staff and parents here truly care about each other and ready to be by your side in good times and bad.
How has your child grown as a result of their experience at SJEDS?
I remember when my oldest son, Alex was in the first grade and he had two lines in the Christmas program, he was so nervous, his whole body was shaking and he was ready to faint, and now, because of how San Jose nurtures our children in all the aspects, Alex loves to be on stage, as a matter of fact, he was chosen to be a part of the Annual First Coast Honors Choir Festival and will be performing in front of hundreds of people in January 2018. My youngest, Nick, has participated in every engineering and robotics class the school offers and you should really see some of his lego creations! The San Jose faculty and Staff have a way of bringing out the best in your child and encouraging growth. Don't get me wrong, it's not all butterflies and flowers, my children make mistakes, but when they do they are not punished for them without explanation, instead a lesson is taught so that's the better choices can be made the next time. My children are growing to be happy, healthy, well-rounded and independent young men who care about people that surround them as well as our community and the environment. Isn't that what we as parents all dream about?
What would you tell another parent considering enrollment of their child at SJEDS?
Don't hesitate! Don't Wait! Schedule a tour, you will fall in love with our sweet school just as much as we did 6 years ago! Our children are our FUTURE and if you want your child to be well educated to the highest standards in language arts, math, science, history, linguistics, PE, art and music as well as become very caring and spiritual individuals -SJEDS is a home for your family! Welcome!