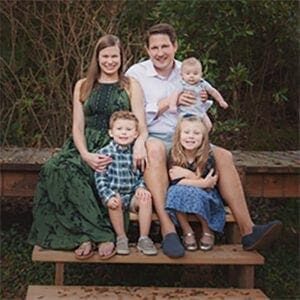 Why did you choose SJEDS?
It was so important to us that our children attend a Christ-centered school.  After we toured SJEDS, we decided we didn't need to look anywhere else because we knew it was the place for our kids!   We could tell just in that one hour that it was a loving & nurturing environment!
What does your child(children) enjoy most about SJEDS?
Rilen and Callie love their teachers so much! I think they feel genuinely cared for.  And I know they love  the resource classes and all of the variety! And of course, they really enjoy playing with their classmates!
What is/are your favorite thing(s) about SJEDS?
I love that it feels like a family already (we are new this year)!   All of the teachers, school faculty & other families are so welcoming and helpful!   And, it is so special that I feel like I can always reach out to the childrens' teachers without being a bother!  They are happy to give guidance and feedback.
How has your child grown as a result of their experience at SJEDS?
I feel both Callie (age 5) and Rilen (age 3) are growing confidence in their ability to do things themselves!   They are so proud to show us what they have learned at school and the new things they can do on their own!
What would you tell another parent considering enrollment of their child at SJEDS?
Sign up – you'll love it!  ????